Welcome to Thompsons Homeopathic
Terms of Shipping Feb 10, 2021

We ship by Canada Post. However, these are unusual times. "Canada Post delivery guarantees are currently suspended." There may be delays. But your package will arrive. By accepting Canada Post's service you are agreeing to Canada Post's terms. If this is not suitable, your order can be picked up at 239 Wallace Avenue. Failing this you can arrange your own delivery service; for example Fedex. Please note; for our USA customers we only ship by Canada Post.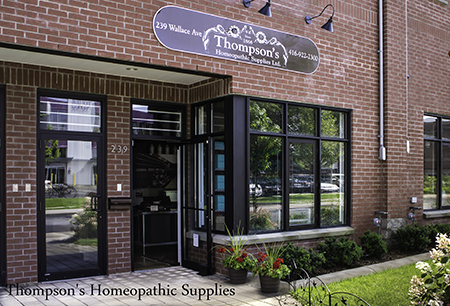 Established in 1868
Thompson's is undeniably Canada's oldest supplier of Homeopathic Products.
Our line of homeopathic preparations is designed by a group of dedicated practitioners. We have over 155 years of experience in supplying beneficial products to practitioners and patients of traditional and homeopathic medicines. All of our products are prepared under carefully controlled conditions by our devoted team of professionals according to GMP. We have a wide array of remedies manufactured to Hahnemann's exact standards.
We are pleased to inform you that after 145 years on Yonge Street, we are now relocated to 239 Wallace Ave. Toronto, Ontario, M6H 1V5. It is our full intent to continue to operate in the future as we have in the past with integrity, responsiveness, passion, and focus on quality.
Thompson's has been in operation as a Homeopathic Manufacturer since 1868 and produces classical single remedy and combination remedy products. We are widely known for our unique creams and ointments.
We also have the experience of many projects with Custom Formulations. We know what works at every stage, and have the expertise and resources in place to make your formula as successful as possible. Our consistent team will focus on bringing you the most efficiency to your project by a manufacturing process that is economical and built to deliver repeatable quality.